Man admits shining laser pen at police helicopter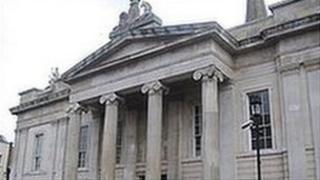 A 24-year-old man has been given community service after he admitted endangering an aircraft after shining a laser pen at a police helicopter.
Naveene Pearce, of Summer Meadows Park in Londonderry, appeared at the city magistrates court on Friday.
He was charged with the offence and one of possessing drugs.
The court was told that on 11 November a police helicopter over the city reported that a laser was being shone at them from a house in Kingsmere Gardens.
Police attended the address and searched the house where the laser had been shone from.
They discovered that it had happened from the bedroom of a one-month-old baby.
A small quantity of drugs was found during the search.
CCTV footage taken from the helicopter clearly showed the laser being shone from the window of a house.
The beam did not strike the pilot but hit the side of the aircraft.
Defence solicitor, Maoliosa Barr said his client did not realise the danger of what he was doing and saw it as a bit of fun.
He asked the judge to treat it as a one-off offence.
Pearce was sentenced to 60 hours community service and fined £150.