Miracle Londonderry baby home in time for Christmas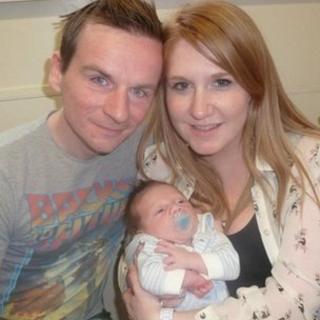 Christmas is a time for miracle babies and a three-month-old baby from Londonderry was called just that at his christening on Sunday evening.
Dexter Doherty was born with a heart defect and can now spend Christmas Eve at home rather than the intensive care unit in Belfast.
He was diagnosed with situs inversus.
This is where the organs of the chest and abdomen are arranged in a mirror image reversal of the normal positioning.
Hayley and Damien Doherty, from the Waterside in Derry, say they are expecting the best family Christmas with their son yet.
Hayley said: "We found out at my 21-week old scan that there was a heart problem.
"We were sent to the Royal in Belfast and it was the longest week of my life. We were told he definitely had a heart defect.
"All the hustle and bustle started though after an hour when I gave birth so I only got to hold him briefly. He was then taken to intensive care.
"It was honestly heart breaking at the time."
Dexter's dad Damien said it is an experience he will never forget.
"The very last thing the nurse looked at when testing Dexter was his heart and I will never forget the words she used," he said.
"The nurse told us she didn't like what she was seeing and we were so worried as to how serious things were.
"When we arrived in Belfast they told us it may have been the transposition of the great arteries where essentially the arteries in the heart are the wrong way around.
"They also told us that he could have been born with no spleen, a twisted gut and two right lungs instead of a left one.
"We then found out he has a condition called Dextrocardia (a condition in which the heart is pointed to the right side of the chest)."
Hayley said she was grateful to everyone for their help and support.
"It's amazing how family and friends can help you through tough times," she said.
"We have also raised a considerable amount of money."