Search continue for Alexander McKee and Harry Warwick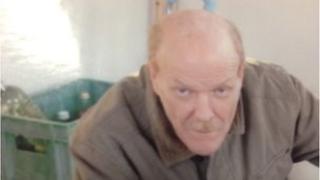 Searches have been taking place in County Londonderry for a missing Limavady man.
Alexander McKee, 56, was last seen at the Causeway Hospital in Coleraine on Saturday where he was being treated.
Friends and family put up posters in the area over the Christmas period in a bid to jog people's memory.
Searches are also ongoing for north Belfast pensioner Harry Warwick, who has been missing from his nursing home for more than a week.
Several hundred leaflets appealing for information about Mr Warwick were issued at the Cliftonville v Crusaders football match on Wednesday.
He was last seen at his nursing home, Abingdon Manor, on the Crumlin Road in Belfast, on 19 December.
Police have said Mr Warwick is frail and vulnerable. They have conducted house to house enquiries in parts of north Belfast and followed up reported sightings. Teams have also been looking in country parks and quarries.
Missing from hospital
Meanwhile, Mr McKee has been missing since Saturday. His step-daughter, Kathy Harbinson, said the family were remaining positive.
"The nurses from the hospital rang Alexander's brother just after ten o'clock on Sunday morning to say he had gone missing from the hospital," she said.
"He hadn't signed himself out or anything, he just left. He was on very heavy medication that would make you delirious.
"He was in good spirits, we were actually told he might get out on Sunday."
Ms Harbinson said the police have also been involved in the search.
"They sent helicopters out straightaway," she said.
"They have been searching a five-mile radius because of his condition - he wasn't very fit so he couldn't walk very far.
"There have been dogs and a specialised team out looking for him, including searches of the River Bann.
"We are getting very nervous, it's the not knowing that's the worst.
"He is very loved within the family, everyone thinks the world of him. He is a family man who loves being at home, he's a quiet man.
"He wouldn't wander off without being in contact."