A feast of festivities marks UK City of Culture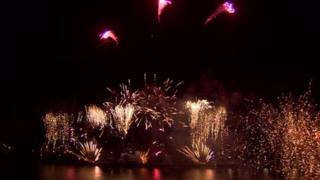 Londonderry/Derry - they might argue over the name but its citizens have always agreed that this place is pretty much centre of the universe.
It is not a big place, with a population of just over 100,000, perched on the edge of Europe and at the fringes of the UK and Ireland.
You would be forgiven then for thinking the citizens have delusions of grandeur.
But think again, because 2013 has just arrived and with it Derry/Londonderry has become the inaugural UK City of Culture.
British Airways and the backpackers' bible, the Lonely Planet, have both put Derry on their list of top ten places to visit this year, ahead of cities like Las Vegas, Beijing and Dubai.
So, what's going to be so special about Derry this year?
Well, the Turner Prize, one of the world's most prestigious art prizes will leave England for the first time.
The All-Ireland Fleadh, the world's biggest celebration of traditional Irish music that attracts upwards of 200,000 visitors, is to leave the Republic of Ireland for the first time.
And, the story of the band that did most to put Derry on the popular music map, The Undertones, will get its own punk musical.
It is a chance, too, to remember the city's remarkable history.
Of course, 30 years of the Troubles will be recalled, but no-one is forgetting the 2,000 colourful years that preceded them either.
This year is the 400th anniversary of the building of the city walls that make Derry one of the finest examples of a walled city anywhere in Europe.
The Honourable The Irish Society, the ancient London body that effectively put the London in Derry by building the city walls, still exists (quaint name included).
To mark the anniversary, it has commissioned a piece of music to be performed simultaneously by the London Symphony Orchestra at the Guildhall in London and by Camerata Ireland at Derry's Guildhall, using the latest technology.
If you go deeper back in time, you meet the city's patron and founder, the warrior monk Colmcille or Saint Columba, who founded the missionary movement that helped bring Europe out of the Dark Ages.
The saint's day, 9 June, promises to be one of the highlights of the year, with Frank Cottrell Boyce, who wrote the Opening Ceremony of London 2012, planning a spectacular carnival.
The build-up and celebrations have already begun.
The acclaimed Field Day theatre company that cemented the reputations of figures like Brian Friel, Stephen Rea and Liam Neeson returned to the stage last month.
The city marked New Year's Eve with the biggest fireworks display it has ever seen.
And the countdown is now on until the Sons and Daughters opening concert on 20 January when Derry really will be the centre of attention.