GAA star McConville welcomes planned changes to gambling laws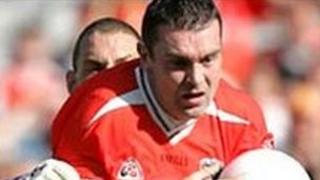 Former All-Ireland winner Oisin McConville has said proposed new legislation regarding gambling is overdue, it but can only do so much.
On Thursday, the plans were announced by the Social Development Minister, Nelson McCausland.
In the planned changes, a ban on Sunday opening for bookmakers will stay, but bets will now be legally binding.
The former Armagh GAA player has spoken publicly in the past about his battle with a gambling addiction.
"It is up to the individual to conquer their demons and try and get off gambling," he said.
"First of all they have to have the willingness to get off gambling and after that the help is out there.
"But there could be more help out there, especially in the initial stages, because if it is not there first hand it can be very off putting for someone who is serious about conquering the addiction."
Auto-pilot
Mr McConville said there can also be a lot of false dawns.
"You think you want to beat it but it is a habit. You are on auto-pilot, it doesn't matter if you have a good day or a bad day, the first thing you will think about is gambling."
Oisin McConville's experiences have been mirrored by a Londonderry self-confessed gambling addict.
He has called on the government to do more to help people like him beat the habit.
The man, who did not want to be identified, was speaking in a bookmakers in Derry just hours after the new gambling laws were announced.
The new laws mean that bets will be legally binding and no longer "a gentleman's agreement".
There will also be tighter controls on gaming machines, especially for the under-18s.
The man described his five-year addiction as a "serious disease".
"There is no cure, the doctor can't prescribe you something to get you off gambling," he said.
"You might go to Gamblers Anonymous on Monday night but then you could find yourself back in the bookies with your sponsor on Tuesday morning, that's how strong the addiction is."
The man said he is only happy when he was no money left to gamble.
"I had enough money today to last me a week and a half and I just blew it today, and that's me now down and out."
He said his problem has also had an effect on his family.
"It would effect them to the extent that I am always coming round looking for stuff," he said.
"Borrowing money and telling all sorts of stories to get money.
"More has to be done to help people like me because as businesses are closing everywhere the bookies are still booming."