Derry-Londonderry City of Culture loses art gallery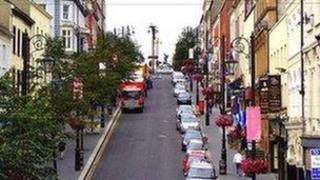 An art gallery owner in Londonderry said she has been forced to close her city centre shop and move the business online.
The news comes in the first weeks of Derry-Londonderry's term as City of Culture
Clare Cooper from Cowley Cooper Fine Art said the move is partly due to high business rates.
She said expensive overheads and the downturn on the high street has hit local traders hard.
"The main catalyst is just rent and rates.
"At the moment it is really hard for businesses to survive, it is really difficult for traders at the moment, bills just keep coming in.
"I think e-commerce is the way forward and that is what we are going to do."
The gallery had a role to play in the City of Culture and Clare Cowley said she will honour those commitments.
"What we will be doing is to pop up in different locations, using the buildings that are empty in the city.
"Trying to make it as exciting and as innovative as possible and trying to get people back over the door."
Clare said the dynamic of Derry city centre has changed over the years.
"It used to be heaving with independents, you would have a lot of them but there is just no help anymore.
"Trying to open a business now would be virtually impossible for anybody.
"I was lucky in the sense that I took over a good existing business because starting from scratch would be very difficult, especially in the art world.
"I see a marked change in Derry from when I was young.
"People would have gone into the city centre on a Saturday, I don't see that so much anymore."
In the last week, the camera chain Jessops, which has an outlet in Londonderry has closed its stores.
Earlier this week the music retailer HMV went into administration.
Both chains say online shopping is behind their demise.