Londonderry loyalists demand boarding pass from woman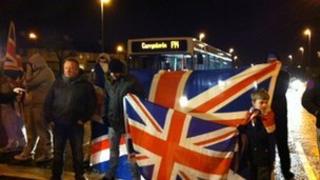 Loyalists have been accused of intimidation after a woman travelling to City of Derry airport was allegedly asked for her boarding pass at a roadblock in Londonderry.
The woman, who was visiting her family in Derry, says she was stopped by masked men on the Limavady Road on Sunday night.
She has now returned to London.
Her father, who did not want to be identified, said he was disgusted by what happened.
"My daughter was home from London to see her sick aunt.
"When she was going back to the airport I asked my wife to take her and take my sister, who has special needs with her, because she likes to go for runs in the car.
"When she came back my wife was very shocked looking.
"She told me those people were stopping cars on the Limavady Road.
"They had masks, they had flags, they had everything.
"She told them she were going to the airport but they said they couldn't let them through.
"My daughter got out of the car and pleaded with them and one of them then asked her for her boarding pass.
"I thought what authority have these guys got to ask for boarding passes, passports, driving licences or any form of ID?"
The man said that at that point other protesters intervened.
"There were a couple of ladies on the footpath, belonging to these people, they said to let them through.
"My wife and daughter were quite shocked at this.
"My sister has Downs Syndrome so somebody with a scarf around their face shouting in a window must have been horrendous for her on the inside, but she is not able to communicate that with us.
"These people have a right to protest as long as they stay off the road and not hinder anybody from going about their daily business."