Translink to hold Londonderry rail timetable meeting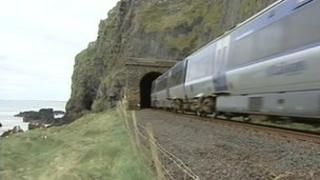 Translink has said there will now be a public consultation in Londonderry about the new rail timetable.
The meeting will be held in Foyle Street bus station on 28 January from 10:00 GMT to 14:00 GMT.
The company had already issued an invitation to a meeting in Coleraine on 24 January and had faced criticism that none was planned for Derry.
Translink staff will also be speaking to passengers on trains.
Eamonn McCann from train lobby group Into The West said: "Our concern is that we still have a situation where it is still going to be very difficult for people to get into Derry before 09:00 (GMT).
"If we are, according to the options given to us, to enable people to get into Derry by 09:00 (GMT) then the implication is because we have no passing loop between Derry and Coleraine, a train can't leave Coleraine station until a train coming the other way has passed Coleraine because there is nowhere for the trains to pass each another.
"This has enormous complications for timetabling because it means that if you are going to have a train coming into Derry before 09:00 (GMT) you would have to have a train leaving Derry at 7:13 (GMT) and waiting for 19 minutes at Coleraine before getting an onward train to Belfast.
"No harm to Coleraine and its station but not many people would look forward to spending 19 minutes there every morning."
Proposals
In a statement, the company said: "In early 2015, Translink plans to extend the hourly rail service through to Derry-Londonderry following the installation of new signalling and an additional passing loop on the track. This next phase of work will commence in 2014 after the City of Culture activities.
"In the meantime, when the line re-opens this spring, it will only be possible to have one train in the Coleraine to Derry~Londonderry line section at any one time.
"Therefore, we have developed the two best possible options for the line re-opening this spring and now invite public feedback to help shape and finalise our plans.
"Both proposed options are outlined in Translink's north west timetable consultation leaflet available from Coleraine and Derry-Londonderry bus and train stations or online at www.translink.co.uk"