Stars 'excited' by City of Culture Sons and Daughters gig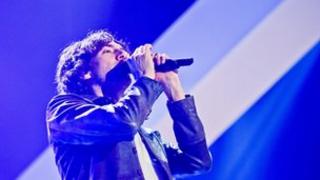 Stars of the Sons and Daughters concert have been speaking of their excitement about Sunday's opening concert for the Derry-Londonderry City of Culture 2013.
Eurovision winner Dana said: "This will be my first time to see the renovated Ebrington Barracks.
"It is somewhere I have looked at across the river all of my life so I am really looking forward to that."
The line-up also includes Snow Patrol, Nadine Coyle, Phil Coulter, Amanda Burton and the Undertones.
Actress Amanda Burton is also excited about returning to her home town.
"I cannot wait to come back over.
"I am bringing one of my daughters over for the first time and we are looking forward to that immensely.
"I will be popping over quite a lot through the year."
A late addition to the bill is the appearance of two members of rockers Snow Patrol.
Guitarist Johnny McDaid has played to huge audiences all over the world but admits to a special excitement ahead of the Derry gig.
"We are just so excited about it.
"Gary's (Lightbody) family are all from Derry as well.
"We were in Derry together recently and we are really excited to be able to play back home."
Sons and Daughters is the opening concert of the Derry-Londonderry UK City of Culture year.
BBC Radio Foyle and Ulster will broadcast a special programme from 19:00 (GMT) - 22:45 (GMT) on Sunday.
The concert will also be available to watch live on BBC TV via the Red Button.
And if you miss all that, it will be screened on BBC Northern Ireland on Saturday 26 January, at 10:30 (GMT).