Londonderry man jailed for nine months for head butt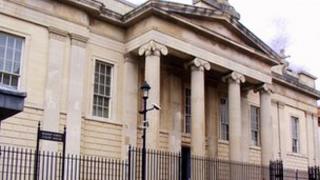 A Londonderry man has been jailed for nine months for head butting a police officer.
21-year-old David Baronowski from Killymallaght Road in Cullion, also spat blood at other officers during the incident in the city last July.
He also admitted assaulting police officers in Altnagelvin Hospital in November 2011.
He further pleaded guilty to committing other public order offences in 2011 and last year.
District Judge Barney McElholm said that at a loyalist protest last week, Baronowski shouted sectarian slogans and abuse at police officers and at passing motorists.
The incidents took place at Spencer Road hours after Sinn Fein MEP Martina Anderson's constituency office was officially opened there.
Jailing Baronowski, Mr McElholm said that he had engaged in "outrageous, provocative, disgusting and sectarian behaviour."