Police in Londonderry defend union flag protest tactics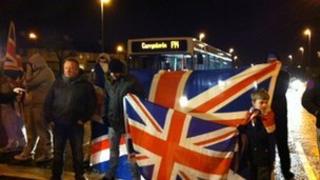 The police in Londonderry have defended their handling of recent union flag protests in the city.
The Police Service of Northern Ireland (PSNI) are to meet with the DUP on Wednesday to discuss the issue.
On Monday night, police were attacked with bottles in Bond Street in the Waterside after they moved dozens of protestors who were blocking the Glendermott Road.
Three people were arrested during the disturbances and one officer injured.
DUP councillor Maurice Devenney accused the PSNI of being heavy-handed.
"From my perspective the people who were there at the protest were working within the rule of law and within their rights.
"I believe the police were heavy handed.
"I was on the same spot where I have been for half a dozen other protests and the police worked very well.
"They didn't antagonise the protestors."
But the police's area commander in Foyle, Jon Burrows, refuted Mr Devenney's allegations.
"We had evidence gathering cameras out with us to record everything that happened and I would say to those who say we were heavy handed, make a complaint to the Ombudsman if that is what you feel.
"I am confident this was a professional lawful operation."
He commanded the PSNI operation on Sunday night, close to the Sons and Daughters City of Culture concert, and said protestors were told then what would and what would not be tolerated at any protests.
"I was out with different members of the protest groups, loyalist, unionist, Protestant groups, telling them we would not tolerate road blocks and face masks.
"We were very clear that we would facilitate peaceful protests but we won't allow those things to take place.
"Then on Monday they blocked the road.
Chief Inspector Burrows also denied that Tactical Support Group, (TSG), officers headed the policing operation in clearing protesters off the road.
He said it was carried out by rank and file officers who policed the protest.
"We gave the protesters repeated warnings for about 30 minutes and they are on camera.
"It was only after that time that we moved in with TSG officers and removed them from the road, we arrested three people and we have reported other people for prosecution.
"We will do everything we can to facilitate peaceful protest but we will uphold the law."