Minister criticised over lack of Limavady investor meetings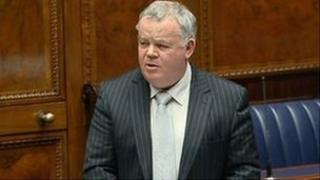 The chairman of the Limavady Chamber of Commerce has claimed that the government thinks "Limavady is a place that can be ignored."
David Brewster made the remarks after it was revealed that during the last financial year no meetings of potential inward investors were facilitated by Invest NI in Limavady.
The information was uncovered by East Derry MLA John Dallat.
The MLA says a special economic task force is now needed for the area.
Speaking on BBC Radio Foyle, David Brewster said: "Limavady is an area that suffers more than most and I can recall when Seagate closed a few years ago politicians were queuing up to say that they would be doing their best for Limavady and we've heard nothing since.
"This just proves that the government thinks that Limavady is a place that can be ignored," he said.
"You have to bring investors to places other than Belfast to make them aware that they exist.
"It is not for invest NI to say where an investor should go but it is up the government to provide whatever incentives it can to direct investors to places like Limavady."
Economic task force
The SDLP MLA John Dallat has criticised the Investment Minister Arlene Foster/
"The minister has consistently refused to set up a special economic task force at assembly level to identify what needs to be done to exploit the strengths and opportunities which exist even in the state of depression we find ourselves.
"She needs to acknowledge that jobs disappeared in their thousands from Seagate, the building industry, textiles, business and agriculture," he said.
"On the back of her most recent written answer to my question I am calling on her to reconsider my demand for a special task force and I hope my call gathers the support of all parties and organisations involved in job creation.
"It simply isn't good enough to deal with the jobs crisis at a Northern Ireland level and ignore the special circumstances that East Derry finds itself in.
In response Invest NI have said they "work to secure inward investment for all of Northern Ireland and it is the investor who chooses where to locate the project, not Invest NI."
"Over the last five years (2007-08 to 2011-12), 147 offers of assistance were made by Invest NI to companies in the Limavady council area. Assistance of almost £13m in the last five years has contributed towards a total planned investment of almost £18m and promoted 89 new jobs," they said.
"Invest NI has a very successful track record of attracting high quality foreign direct investment which will benefit the whole of the region."