Man who 'assaulted' mother and sister appears in court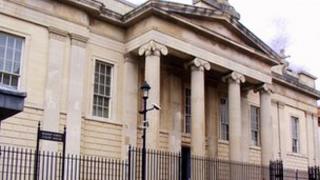 A man accused of assaulting his mother and sister has been remanded in custody following his appearance at Londonderry Magistrates Court.
Gary Malcolm Vaughn, 25, whose address was given as "no fixed abode" is alleged to have committed the assaults in his family home on Wednesday.
He is further charged with damaging his mother's bedroom door.
The defendant was remanded in custody until 14 March when he will appear via video link.
A defence solicitor told District Judge Barney McElholm that because the defendant no longer lived at the family home following the alleged incidents, no bail application was being made as no bail address was made available.