Man arrested after fatal road crash near Londonderry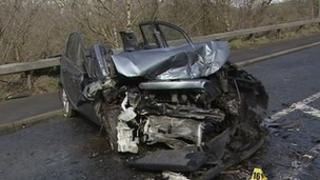 A 30-year-old man has been arrested in connection with a fatal road accident near Londonderry.
David Richie, 69, from the Tullyally area of the city, died in a head-on collision on the Glenshane Road near Burntollet Bridge at 20:45 BST on Wednesday 17 April 2013.
A man and a woman were treated in hospital after the accident between his car and a Vauxhall Astra.
Two men, aged 22 and 26, were arrested after the crash and released on bail.
Police said anyone who saw a black Vauxhall Astra and a silver Vauxhall Astra on the Glenshane Road before the collision should contact Strand Road police station on 0845 600 8000 or speak anonymously to the independent charity Crimestoppers on 0800 555 111.