Philippa Reynolds' parents ask city to commemoration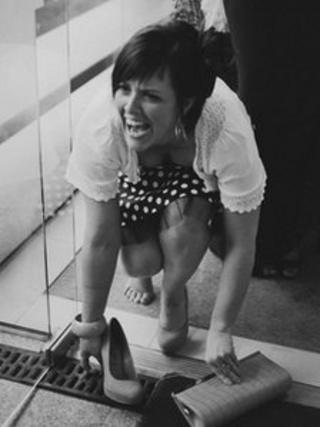 The parents of a policewoman killed in a road crash in Londonderry earlier this year have invited people from across the city to attend a commemorative service for her.
Dorothy and Mervyn Reynolds said they would never get over the loss of their daughter.
Philippa Reynolds was the back seat passenger in an unmarked police car on the Limavady Road in February.
She was killed when a stolen 4x4 vehicle struck the car.
The PSNI believe the 27-year-old, from Crumlin, County Antrim, was killed instantly by the impact of the stolen vehicle.
Two officers who were also in the police car were both hurt, but not seriously.
Speaking ahead of a commemorative service this weekend her parents invited people across the city to attend to remember their daughter and support her colleagues in the PSNI.
"The people of Derry who sent us sympathy cards came from all sides, the Waterside, the Cityside, Protestant, Catholic it didn't matter," Mervyn Reynolds said.
"If any of them want to come to that service and give support to us and the police, I'd love to see them."
Philippa's mother Dorothy agreed, saying the public would be very welcome.
They recalled how they found out their youngest daughter had been killed.
The couple were asleep at their hotel while on holiday in Las Vegas when the phone rang.
"I just couldn't believe what I was being told; I thought to myself 'why?'," Mervyn said.
"I just went over to Dorothy and said 'we have one daughter less',".
Dorothy said she couldn't take in the news at first.
"I can't really explain how it felt, it wasn't real, it wasn't happening," she said.
'Sympathy and love'
Remembering her daughter, Dorothy said Philippa was "very loving, always having fun".
"She was always the baby, she enjoyed life," she said.
"We've had to adjust obviously and some days are easier than others.
"There are hard days when you don't want to get out of bed, you don't want to be here. But you have to go on for the rest of your family. It is hard, anyone who has lost a child will understand."
"You have your wee tear, something you see, something you hear or is a reminder your emotions just well up inside you," Mervyn said.
Philippa had originally trained as a teacher, but left that career to follow in her father's footsteps.
"She applied for the police and it was the second time that she had applied that she was accepted," Mervyn said.
"I just said to her if you go for it you've got to really go for it."
"This incident was just a tragedy, it should never have happened. A minute earlier, a minute later it would never have happened and it's just a pity that we've lost a beautiful daughter."
The family were contacted by people from all over Northern Ireland after their daughter's death.
"We've been truly humbled by the number of cards we've received from people all over Northern Ireland," Dorothy said.
"We are very thankful for them all and we hope people will take our thanks out of this for their sympathy and their love."
Dorothy said people from Derry had told the family they were ashamed Philippa had been killed in their city.
"It was very kind of them to let us know that they felt pain as well. I still love the city I think it's a lovely city and I find the people very friendly.
The Reynolds revealed Philippa had formed a serious relationship with a fellow police officer.
"Maybe after 15 February there might have been an announcement of an engagement. We just don't know," Dorothy said.
"We just know that she loved him and that he loves her still."
That service in memory of Philippa Reynolds will be held at First Derry Presbyterian Church on Sunday at 15:00 BST.