Young horse rider 'shaken' over dog attack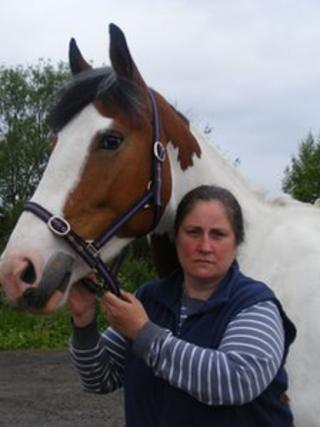 A young girl has been left badly shaken after a horse she was riding was repeatedly attacked by a dog in Londonderry.
The five-year-old mare was left with wounds to its back and legs after the attack at Ballyarnett Park on Saturday.
The horse owner Rosemary Fisher said it was a frightening ordeal.
"The police are actually involved now in this incident. I did that as a public service duty almost, this dog has tasted blood," she said.
"My friend Victoria was riding the horse and her friend Ruairi was walking alongside."
The pair noticed three teenagers with three black dogs near the top of the park near Earhart House. Rosemary said two younger dogs were on leads but the adult dog was loose.
"The adult dog started running towards her and before she knew it had actually made a grab for the horse's throat," she said.
The horse has been tended to by a vet and put on medication for her injuries.
"My mare is like a bull, she's a big, huge, strong, fit animal, and if this dog has done this to my mare, what would he do to an innocent person walking a wee dog, or god forbid a young child. I don't want anyone to have to meet that dog again."