Martin Reilly takes up office as new mayor of Derry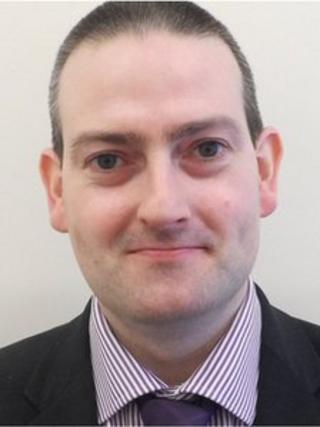 SDLP Waterside councillor Martin Reilly is the new mayor of Londonderry.
He took up office following an annual general meeting on Monday night.
Mr Reilly, who is originally from Roslea, County Fermanagh, replaces outgoing Sinn Fein mayor Kevin Campbell.
He has pledged to be a determined advocate for Derry and to open up the Guildhall during his term of office as "a welcoming place for all".
In his inaugural address, he said: "Derry is a city transformed. Ebrington, the Peace Bridge and the UK City of Culture year have united and energised our citizens and renewed Derry's strong sense of self-belief.
"As first citizen, I look forward to welcoming thousands of visitors to this city as we approach the second half of our City of Culture year and I am determined that the people of Derry will have a real lasting legacy from our year.
'Welcoming place'
"We need to build on the great successes of the events thus far in showcasing our city to a national and international audience as a vibrant tourist destination full of song, dance, culture and creativity.
"We also need delivery of the Derry's One Plan, further development of Ebrington and Fort George, expansion of our university, supported growth of our private sector and serious upgrade of inadequate infrastructure.
"These are issues that affect all citizens. I want to work with all parties and in partnership with central government and other agencies like Ilex, the University of Ulster and the Londonderry Chamber of Commerce, to be a determined advocate for Derry on these issues.
"I want Guildhall to be an open and welcoming place. With this in mind, I will be hosting a free family fun day event in Guildhall later this month so that this old building can come alive with the laughter of its children."
Councillor Gary Middleton of the DUP has been elected as deputy mayor.