Londonderry investment 'whinging, moaning' criticised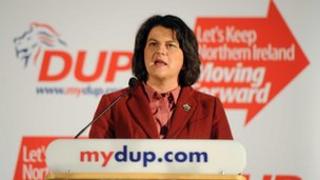 East Londonderry MP Gregory Campbell has defended the enterprise minister after she attacked those who criticised the track record of Invest NI.
Arlene Foster backed the performance of the jobs-creation body in the north west of Northern Ireland, on Monday.
Mr Campbell said the minister had a point and people should be more positive.
Londonderry continues to top Northern Ireland's unemployment table, followed closely by Limavady and Strabane.
During assembly questions, the Mr Campbell asked if Mrs Foster could offer any advice in terms of "the best way to promote regional development: to whinge and moan about it or to get on with promoting it?".
In response the minister wondered if "members really think that international investors are going to come to their part of the world if they're whinging, if they're complaining, if they're saying that nobody ever bothers about us?".
"Or do they think that there's a better chance if they talk about the benefits, the skills, the people, what is happening in their particular area, do they think that's a better way possibly to get international investors to come and look at their city?" she said.
"As for Invest NI, I was absolutely outraged, I don't know why I was outraged because I've come to expect it, from (BBC) Radio Foyle in particular, at the outrageous comments that were made in connection with Invest NI over this past week."
Mrs Foster did not specify to which comments she was referring.
Alistair Hamilton was interviewed last week on BBC Radio Foyle's Breakfast programme. The Invest NI head was not able to answer questions on how many foreign direct investment jobs his organisation had brought to the north west over the previous year.
'Life savings'
"Invest Northern Ireland, and in particular Alastair Hamilton, has went out of his way to promote the north west of this country as a destination," Mrs Foster said.
"Indeed, he took part in a hugely successful seminar in the Guildhall in London, went across, made sure he was there to talk about the benefits of investing in the north west.
"He then brought his international sales team from Invest NI, who come back to Northern Ireland once a year to make sure they're aware of what's going on, and where did they go? They went to the north west to specifically talk to stakeholders, to talk to large employers, to learn about the key messages which the city of Londonderry and the wider region had to offer to potential investors."
Mr Campbell said people should take heed of the enterprise minister's comments.
"I think it would be a good idea if people who are complaining about her using the term 'whinging' were to say to themselves 'I wonder why she's using that term, I wonder what it is about our comments, our interviews, our attitude, our approach that would make her use that term', " he said.
Joan, a local entrepreneur who has launched her own luxury shirt manufacturing business, disputed the comments coming from Mr Campbell and Mrs Foster.
"We're not whingers, the opposite is true. We're very hardworking people who've invested our life savings in businesses to create jobs," she said.
"The Invest NI figures speak for themselves, they can't be defended.
"I'm an entrepreneur and I have a chance to export luxury shirts to New York, I was over there on St Patrick's Day trying to set a deal up. I would love to give the people of this city jobs but I can't do it on my own. We need MLAs to help us."
Invest NI told the BBC it would not be able to provide a spokesperson and would not be providing a statement.