Rubber bullets: Army kept real dangers in NI hidden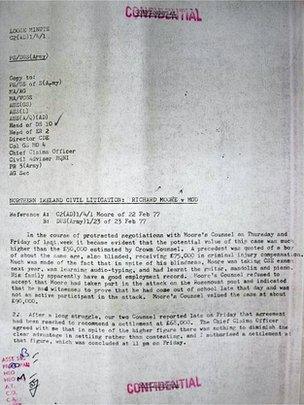 Soldiers used rubber bullets in Northern Ireland at a time when they knew they were more dangerous than had been disclosed, a human rights group has said.
The details were found in declassified Ministry of Defence (MoD) papers, according to the Pat Finucane Centre.
They contain legal advice for the MoD to seek a settlement over a Londonderry boy blinded by a rubber bullet in 1972.
An MoD spokesman said lessons had been learned from the events of that period.
Richard Moore from Derry was blinded at the age of 10 when a soldier fired a rubber bullet into his face.
According to the Pat Finucane Centre, one document written in 1977 said a court case would expose the problems with the bullets and make it harder for the MoD to fight future cases involving rubber bullets.
The centre said this was because it did not want to discuss the bullets in open court.
The papers stated that further tests would reveal serious problems with the bullets, including that they were tested "in a shorter time than was ideal", that they "could be lethal" and that they "could and did cause serious injuries".
The MoD later settled the case with the Moore family out of court for £68,000.
Mr Moore, who is the director of the Derry-based charity, Children in Crossfire, said he had met the solder who shot him and they were friends.
But he added the recent information "makes me feel sad".
"I possibly would have been able to see today if these weapons hadn't been deployed on the streets," he said.
He said he realised that it was now a different era but said the use of rubber bullets was wrong.
"They shouldn't have brought them onto the streets. I'm alive to talk about it. There are children who are not alive to talk about it.
"It's not about me, you can't help feel that you were just a pawn in a bigger game, they were more concerned about the financial impact and the political impact."
Paul O'Connor from the Pat Finucane Centre said it was "evident" throughout the papers that the MoD were "very concerned" that if this went to court, and if Mr Moore's lawyer sought disclosure, a number of things would come to light.
"Firstly, that the rubber bullets were not properly tested before they were introduced, secondly that the ministry was aware that they were lethal and thirdly that they were aware that they caused serious injuries and they did cause serious injuries," he said.
In a statement, the MoD said it "greatly regrets that Mr Moore was blinded at such a young age as a result of this incident and our thoughts remain with all those who were killed or injured during that time - both military and civilian.
"Lessons have been learned following the tragic events of that period of conflict, and compensation payments have been made in recognition of that."
The papers indicated that a single round was fired because the lives of the soldiers were believed to be in danger, and for this reason the Ministry of Defence was not prepared to accept that the soldiers acted wrongly.
They also showed that there had been a discussion within the department about whether to settle the case for damages brought on Mr Moore's behalf, and that, as would have been expected, this included an assessment of the view of the court.
SDLP Foyle MP Mark Durkan said: "These papers confirm that the British government really knew just how unsafe, unreliable, injurious and lethal these weapons could be.
"At one level, the victims of these bullets and their families have felt and suspected something of this order all along. At another level it is grossly shocking to find that cynical malevolence corroborated in government papers."
Rubber bullets were introduced as an alternative to the use of firearms when soldiers were faced with lethal threats during rioting in Northern Ireland during the Troubles.
They were replaced by plastic baton rounds that were assessed as being less likely to cause lasting injury.