300 homes lose power supply near Articlave bonfire site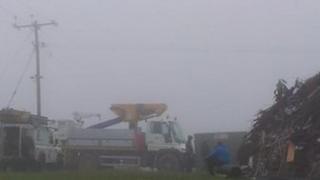 Northern Ireland Electricity has removed an overhead power line supplying about 300 customers amid safety concerns about a nearby bonfire.
Power to customers in the village of Articlave, County Londonderry, was cut off for several hours on Wednesday evening during the work.
The line was removed after an agreement to move the bonfire away ended without a resolution.
NIE said the decision was taken because of the risk posed by the fire.
"As no agreement to move the bonfire had been achieved by local representatives, and on advice regarding the risk to our equipment, NIE had no choice but to temporarily remove a section of overhead line," the company said.
"Unfortunately, customers in the local area were without electricity yesterday evening while this work was carried out and those same customers will lose electricity supplies while reinstatement work is carried out over the weekend."
Determined
The work is expected to cost several thousand pounds.
DUP Councillor Sam Cole was involved in talks with the fire service, the police and the Northern Ireland Housing Executive.
"We also sent negotiators to the young people building the bonfires," he said.
"They were determined it would not be moved; they only agreed to move it 10 ft. The Fire and Rescue Service said that would not be enough. They said it would need to be shifted 20 metres."
Councillor Cole said all those involved in discussions felt it was important to take community feeling on board.
"The youths who built the bonfire said it was in exactly the same position it was in last year," he said.
"They felt this was an attempt to make them feel uncomfortable about building their bonfire and that it was being used to discourage them from building the bonfire - but that was a false mindset."