Swan song for Glasgowbury at Eagle's Rock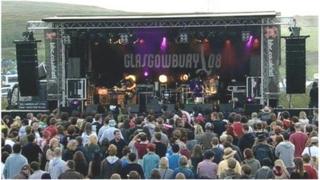 Northern Ireland's "small but massive" music festival which has attracted its own cult following is getting its final send-off next weekend.
Glasgowbury - jokingly named after creative director, Paddy Glasgow - is having a last farewell at Eagle's Rock, Draperstown.
In the past 13 years, it has grown and offered a platform to young musicians across the island of Ireland.
It is about bringing the arts to the heart of a rural community.
But now the organisers want to offer a more varied arts programme in a new centre in Draperstown where, they promise, musical opportunities will remain at the heart of their work.
Paddy Glasgow said he was "saddened" at the idea for the end of this particular event, but heartened at the future and the new chapter ahead.
"I have mixed emotions," he said.
"We are at a crossroads here and we're not a massive organisation. So it is sad, but it is a celebration for the future," he said.
"Glasgowbury has not gone away completely.
"The magic moments for me have been about hearing how young individuals were inspired to go and do things.
"I've been getting texts over the last few days saying things like: 'I started a band because of Glasgowbury' or 'I picked up a guitar because of Glasgowbury'."
The "last big gathering on the hill" takes place on the weekend of 19 - 21 July and is part of Derry's UK City of Culture year celebrations.