John Dallat told death threat on Garvagh bonfire was for him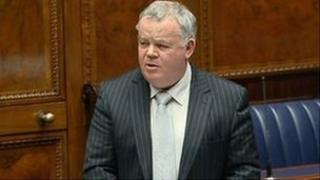 The SDLP MLA John Dallat has been informed by police of a death threat that was left on top of a loyalist bonfire in Garvagh.
A scarf shaped into a noose was left with the note on Thursday evening.
The note named Mr Dallat and warned that life would not be normal until he was disposed of.
He said while the death threat would not "inhibit him", those who made the threat were dangerous people who "could not be ignored".
Mr Dallat said he was "grateful" to police for calling at his home on Thursday evening to alert him to this "disgraceful event".
"I understand they did everything possible within the time available and the resources at their disposal but could not persuade the organisers to remove the offending material," Mr Dallat said.
"When I visited Garvagh just before midnight it was very clear that the number of people turning out to support this event was a mere handful compared to years ago."
Mr Dallat said he would be arranging a meeting with senior police officers in the coming days to see if those who put the death threat on the bonfire would be interviewed and charged with incitement to hatred.
"Only when we have laws which are capable of criminalising those involved in sectarianism and committing hate crimes will we bring an end to activities which are in breach of every principle of human rights anywhere in the civilised world," he said.
"I will also be seeking meetings with the various statutory authorities about the fallout from this tyre-laden bonfire which left a heavy presence of burned rubber materials over an area which spanned several miles and was only cleared after several hours."