Derry hails Apprentice star Leah Totton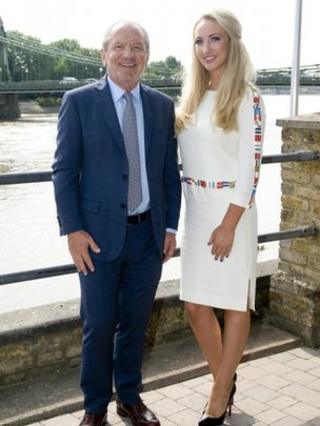 Congratulations have been flooding from all over the country for Leah Totton - but nowhere is the excitement greater than in her home city.
The Londonderry doctor was crowned the winner of BBC One show The Apprentice on Wednesday night.
Her proud parents Lorraine and Trevor found out about their daughter's success during a special showing in London on Monday - and had to stay tight-lipped when they watched the final with family and friends back home in Derry.
"Most of the family didn't know, but it was just amazing watching it again, it just brought back all the emotion," Trevor Totton said.
"The first time we saw it - dear goodness, Lord Sugar really knows how to put you through it.
"Up to four or five seconds before, we just didn't know, but when Leah won it was just an incredible feeling.
"That was the pinnacle. As I said to the wife and family, that was just about the happiest, proudest moment of my life.
"I've never felt that way before."
For Leah's mum Lorraine, the wait was even harder.
"It was absolutely amazing to be able to share it with our family and friends," she said.
"Watching the show was absolutely awful, it was so intense, and even more so in the studio - they really shouldn't have put us through that.
"There's no better person to sell herself than Leah," said her aunt Helena Lindsay.
"This is a process to be Lord Sugar's business partner, and in my eyes that's just phenomenal.
"It's a massive achievement - it doesn't get much better than this, does it?"
For Leah herself, its not just a personal success, but something for the whole city to share.
"I'm the first in my family to leave Derry and I'm the first to go to university, so I think it's a great achievement not only for me but for my whole family and for the city," she said.
Lord Sugar will invest £250,000 in Leah's cosmetic procedure clinics - and a "Dr Leah" clinic could soon hit the streets of Derry.
"I would love that in the future," said Leah.
"It's my home city and it's the UK City of Culture 2013 so it's had a great year.
"It's where I grew up, and where my family are still based, and I would love in the future to have a base in Northern Ireland."
Leah said she was keen to get down to business - but first she plans to spend the weekend relaxing at home with family and friends.
"It's completely overwhelming, I can't even describe how I'm feeling. I'm on cloud nine."