Boy, 11, injured by petrol bomb in Londonderry park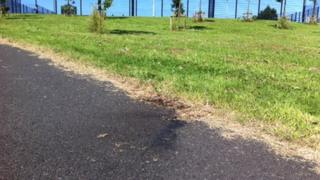 The mother of an 11-year-old boy who was injured in a petrol bomb attack in a Londonderry play park has said she fears her son will be scarred for life.
The device was thrown as the child played in the park at Iniscarn Crescent, in the Creggan estate, at about 16:45 BST on Thursday.
The boy was struck on the back and taken to hospital with burn injuries.
He has since been transferred to the Royal Victoria Hospital in Belfast where he is in a stable condition.
'Harrowing scream'
The boy's mother, Donna Grint, told BBC Radio Foyle that she had been sitting out on the street when her injured son ran back to her from the play park.
"He came running down the street squealing 'I'm on fire, I'm on fire, someone threw a petrol bomb and I'm on fire, I'm melting'.
"It was a harrowing scream," she said. "I have never heard him scream like that before."
The police believe two boys, aged about 12 or 13, were involved in the attack.
'Scandalous'
It is understood there was no ongoing disorder in the area at the time.
Derry Mayor Kevin Campbell said those who attacked the boy had caused "an awful lot of hurt and harm in this community".
"It is absolutely scandalous," he said. "Where do we go from here? Are we going to have to put people walking about that park to protect that park?
"You are never expecting a child of 11 years of age to get hit by a petrol bomb," Mr Campbell added.
PSNI Ch Insp Jon Burrows called the attack "horrendous".
"This young man is very badly injured. I'm grateful that he's not dead if I'm quite blunt," he said.
"We are shocked by this incident, even as hardened police officers."
Ch Insp Burrows said he could not speculate on a motive for the attack because he was hoping to arrest those involved.
"I don't know whether it was a prank, I don't even know if it was badness, maliciousness," he said.
"What I do know is that someone was clearly committing a crime because they had a petrol bomb and someone has been very badly injured.
"We need the help of the community in Creggan. I've no doubt people know who did this and if you can't tell us directly, if you can't give us a statement of evidence, please ring Crimestoppers. Give us the names of who did this."