Second attack on Bellaghy Orange hall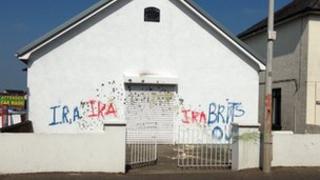 An Orange hall in County Londonderry has been attacked for the second time in a week.
Sectarian graffiti was daubed on the wall of the hall in Bellaghy between Friday evening and Saturday morning.
It was also attacked with paint the previous weekend.
Ulster Unionist assembly member Sandra Overend said it was a "disgusting attack on Orange culture" and there was "hurt and disappointment" among unionists.
"I appeal for leadership from across the community both in condemning this act and in offering any relevant information to help find the guilty party who should be subject to the full rigour of the law."