County Donegal man charged with Benone beach hit-and-run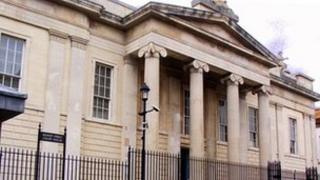 A 30-year-old man from County Donegal has admitted injuring a woman and child in a hit-and-run incident on Benone beach, County Londonderry, a court has been told.
Paul John Doherty, from Ballynahone in Fahan, also admitted dangerous driving causing grievous bodily injury and two counts of dangerous driving on Sunday.
He also admitted five other driving offences including driving while unfit.
He was released on bail and the case was adjourned until 19 August.
A police officer told Londonderry Magistrates' Court that the mother grabbed her child and held her in her arms as a red BMW sped along the beach, but both were struck.
They are still in Altnagelvin Hospital - the mother with bruising and cuts, and the daughter with bruising and a fractured collarbone.
Swerve
The officer said he had received numerous phone calls and witness statements from people who were on the beach at the time.
He said that when he arrived he saw the BMW being driven along the Seacoast Road.
He signalled to the driver to stop, but the car continued at speeds of up to 70mph, forcing oncoming cars to swerve to avoid a collision.
A police helicopter was deployed, and the car was found over 20 miles away behind a half-built house on the Baranailt Road near Limavady, County Londonderry.
When police arrived, the defendant ran off but was caught after a short chase.
He had taken the car registration plates off and put them in the boot of the car.
He was arrested and taken to Limavady police station where he admitted the offences.
The officer said the defendant had just over twice the legal amount of alcohol in his blood.
'Reluctance'
Mr Doherty's solicitor said his client had never been in trouble before, and his employer also gave character evidence on his behalf.
Deputy district judge Terence Dunlop said it was an extremely serious incident, and Mr Doherty was lucky he was not facing more serious charges.
He said the criteria for bail was based on the fear of committing further offences or absconding and he said that "with some degree of reluctance, the application falls just on the right side of the line in terms of bail".
Mr Doherty was released on his own bail of £500 and ordered to report to Strand Road police station in Londonderry every day.
He was also ordered not to drive and not to consume alcohol or take non-prescription drugs.
He was also ordered not to contact any police witnesses.