30 protest at medical test centre in Londonderry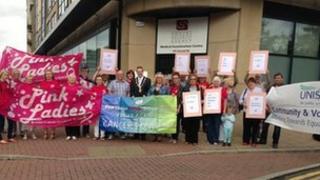 About 30 people have attended a protest outside the Londonderry office of the company that carries out government medical tests.
Atos Healthcare carries out assessments to determine whether people on sickness or disability benefit are fit to work.
Michelle McCarron, from the Pink Ladies cancer support group, said patients should not have to attend while coping with their illness.
Atos said they provide a "professional and compassionate service".
Ms McCarron said the assessments made a difficult time worse for cancer sufferers.
"It's already hard enough living with your illness and dealing with your illness, but to have to be asked by a complete stranger if you can lift a pint of milk - they're silly questions.
"It's an awful experience for somebody who a doctor has already agreed is unfit for work.
"We want this system scrapped altogether. We want people to be able to deal with their illness and get on with it without that extra anxiety," she said.
Atos said they "never ask healthcare professionals to make any changes to a report unless there are specific clinical quality issues identified within it.
"We do not deviate from government guidelines in our training. We do not have targets for getting people on or off benefits.
"We have a large team of fully trained doctors, nurses and physiotherapists who provide a professional and compassionate service through what we recognise can be a difficult and emotional process for people."