Derry Peace Bridge lifebelt vandals 'put lives at risk'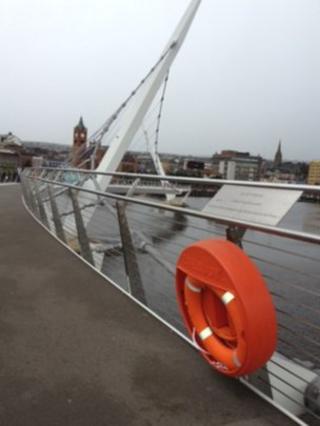 Lives are being put at risk by vandals who removed lifebelts from Londonderry's Peace Bridge, the body that maintains the bridge has warned.
Three belts were taken from the bridge and thrown into the river at the weekend.
Ilex has replaced the belts, and said it was "crucial" they were available, particularly when being used by so many people enjoying the good weather.
Foyle Search and Rescue said 35 people are alive today because of the belts.
Craig Smyth from the charity said people who vandalise lifebelts "could be directly putting someone's life at risk".
"This person could turn out to be a family member or friend, and it's vitally important that the lifebelts are there and in working order.
"A lifebelt is the difference between life and death.
"Could these vandals live with themselves knowing someone drowned because of their actions?"
The missing belts have not been recovered.
The interim chief executive of Ilex, Mel Higgins, said it was a question of public safety.
"The lifebelts are there to help save lives and these reckless acts have put lives at risk.
"Ilex has replaced the lifebelts as a matter of urgency, and will continue to monitor the situation, ensuring a sufficient number are always available," he said.