Apprentice Boys hall is attacked in Derry for fourth night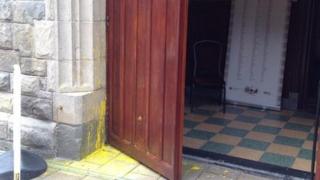 The Apprentice Boys' Memorial Hall in Londonderry has been attacked for the fourth night running.
In the latest attack, stone work and new doors fitted for the UK City of Culture celebrations, were damaged by paint and glass.
It is thought the repair bill will run into hundreds of pounds.
The governor of the Apprentice Boys, Jim Brownlee, said the people responsible were motivated by hatred.
"These people have no love for this city whatsoever," he added.
"They certainly have no love for the Apprentice Boys' memorial hall.
"Hopefully these people can be brought to justice.
"They are of a sectarian mindset whereby they feel it is right and proper to paintbomb what they see as a hall that is nothing to do with what they believe in, but that is purely destructive, it is sectarian, it is hate-filled.
"These people don't have a clue as regards history or culture."
PSNI Chief Inspector Jon Burrows said he understood Mr Brownlee's frustration at the attacks, but that it was difficult for the police to protect a single building "all of the time".
"I cannot provide static attention to the memorial hall 24/7 throughout the summer," he added.
"I don't have the resources to do that, I don't think that would be right to do that, indeed the officers themselves could be the target of attacks."
However, Mr Burrows said he had met with his team of officers on Friday and that they would be reviewing their tactics.
He said police were "hopeful" of making arrests.
SDLP Foyle MP Mark Durkan said the attacks were "despicable acts of wanton vandalism".
"It is not enough just to register our disgust and condemnation," he added.
"We want to see people stand up and give whatever information may be of use to the police without delay, so that the small minority who are all too often responsible for carrying out this type of attack are apprehended and brought to justice."
Northern Ireland Deputy First Minister Martin McGuinness condemned the latest attack as "shameful".
Alliance Party policing board member Trevor Lunn said it was "disappointing that the perpetrators continue to create negative headlines during this time".
"This vandalism simply has to stop and is not representative of the whole community," he said.
The Republic of Ireland's deputy prime minister Eamon Gilmore condemned the attacks.
"The people of Derry are enjoying a successful year as City of Culture and the Memorial Hall had recently been renovated as part of the Apprentice Boys' contribution to those celebrations," he said.
"The attacks in Derry come in the wake of other attacks on Orange Halls across Northern Ireland and the violent incidents surrounding the July 12th parades in Belfast.
"I totally condemn these attacks which are designed to increase sectarian tensions and provoke violence at a time when we are focussed on building a shared society and attracting inward investment and tourism to Northern Ireland."