Stolen historic Apprentice Boys flag to be returned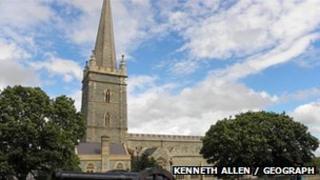 An historic Apprentice Boys flag that was taken from St Columb's Cathedral in Londonderry on Monday is to be returned, a community worker has said.
The red crimson flag was recovered from a bonfire in the Creggan area of the city.
The flag was hoisted in the early 1700s and flies at the east of the cathedral.
Hugh Brady, from the Rosemount Resource Centre, said the flag will be returned to Reverend Dean Morton on Friday afternoon.
"The flag was taken from the cathedral and put on top of a bonfire. We contacted Creggan Community Collective and the Irish Republican Socialist Party (IRSP) who negotiated with young people in the area," said Mr Brady.
"After all the good work that has been done in the area, the young people didn't want their good name taken away.
"Fourteen year olds watch their flags being burned on the 11th night. I can understand their mentality. It doesn't justify stealing a flag but we have to understand their frame of mind."