Derry groom fined over wedding day haircut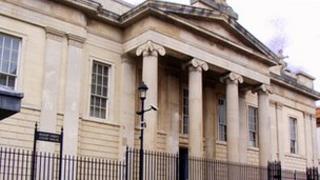 A man who was stopped by the police on the morning of his wedding, while on his way to a barber shop, has been fined £350 at Londonderry Magistrates' Court.
Ciaran McElaney, 25, from Drumard Park, Londonderry, was on his way to get a hair cut.
He was stopped at a police check point while driving his sister's car along Marlborough Road on 15 May.
McElaney admitted to taking the car without his sister's consent.
He also admitted driving the car without insurance or a licence.
Defence solicitor George Copeland said McElaney was on his way to a barber's shop "to get himself brushed up for his wedding later that day".
Judge Barney McElholm also ordered McElaney to have eight penalty points put on his licence.