Donegal monastery 'on a par with Clonmacnoise'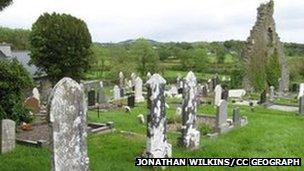 The remains of a medieval monastic settlement uncovered near Donegal town could be as significant as the ancient ruins of Clonmacnoise, a senior archaeologist has said.
A boggy field beside the church at Drumholm, Ballintra, was to be turned into a car park.
But a survey revealed a secret rich history.
The site is where the Irish saint, Ernan, is said to have been buried in about 640 AD.
It is famous for its historic church that is still being used.
Archaeologist Mick Drumm said the site was of "huge national importance" and would be classified as a national monument.
"I can't overstate the national importance of this. It is very exciting," he said.
"This is a very significant ecclesiastical site - a major site.
"We have uncovered a lot more then we would normally see on much bigger sites. It is so well preserved that you can see the tool marks on the timbers, fresh as the day they were made.
"The monks would have lived in circular-stone huts resembling bee hives. Evidence of iron working has also been uncovered, along with the butchered bones of animals and pottery from different periods."
Mr Drumm said Donegal had a long and rich history and heritage.
He said there was huge potential to carry out further work but this would depend on funding and backing.