Londonderry grass building 'ready for show'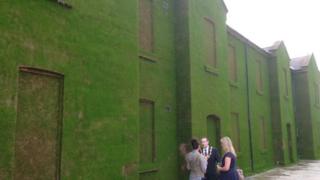 An historic building, that was once an accommodation block for married soldiers in Londonderry, has been covered in grass and will open to the public on Sunday.
The Cunningham building in Londonderry's Ebrington Square has been transformed as a temporary art installation.
The buildings dark stone facade has been covered in millions of grass seeds, enough to cover five football pitches.
It is part of a UK City of Culture project by Derry gallery, Void.
Artist Dan Harvey said he and his partner Heather Ackroyd have been working together for 23 years.
Mr Harvey said: "It's been a fantastic opportunity for local people to get involved. 15 volunteers were involved in the process.
"The work will continue to grow and transform over the running time of the exhibition.
"The entire process took two and a half weeks and all the seeds were put on by hand.
"It's merely an art installation and is about taking disused building and transforming it into a garden like space.
"The building is ready for show and we try and push grass as an artistic product far as we can."
Noirin McKinney, Director of Arts Development at the Arts Council of Northern Ireland said art is woven into the fabric of Derry.
"The opportunity to experience work from such highly acclaimed international artists is a reflection of the quality of work we have been exposed to throughout the UK City of Culture 2013."
The Cunningham installation will open to the public from 15 September until 27 October.