Londonderry protests over planned gasification recycling plant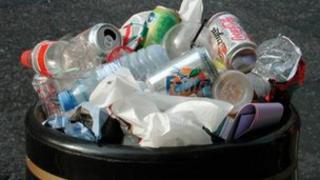 The environment minister has said he wants to be fully informed about a proposed gasification recycling plant in Derry before a final decision is made.
The group, Zero Waste North West from Strathfoyle, held an anti-incinerator meeting on Thursday evening.
Planning permission for the plant has been granted.
Gasification plants operate by heating waste to produce a gas that is used to generate steam.
"This ultimately falls on me," said Environment Minister Mark H Durkan.
"There has been quite a bit of public debate and talk and I want to learn more about what people from both sides want.
"The plant has planning permission and will ultimately require permitting permission and that means it will come to my desk.
"I came to the meeting to listen and to take away people's views."
'Zero waste city'
Judy Logue, vice-chair of the the campaign group, said: "We are opposed for environmental and health reasons.
"We know that the waste will be residual waste. This proposed plant is huge and it will deal with waste from six other borough councils.
"Our fear is that Derry will become the dumping ground for the north west.
"Our aim is for Derry to become the first zero-waste city in Northern Ireland."
A spokesperson for the North West Region Waste Management Group (NWRWMG) said: "The plans to develop an Energy from Waste (EfW) plant are part of an integrated plan to boost recycling rates and lessen the environmental impact of waste.
"The scheme will also create renewable energy and help local councils and ratepayers avoid EU fines for failing to divert waste from landfill.
"Modern energy from waste plants should not be confused with old-style incinerators. In particular, gasification, the technology being developed by NWRWMG, provides greater control of potential pollutants and reduces the amount of material which passes through the plant's sophisticated filter systems."
SDLP councillor Sean Gallagher said he was disappointed that no constructive solutions were suggested at the meeting.
"I live in Derry along with my family and that's very near the plant. I wouldn't be promoting something that would be against our health.
"Things need based on evidence and if people have a better solution about what to do with waste that we create every day then they need to come forward."
In April, the Department of the Environment ordered an internal investigation into why the public was not informed of planning approval for the plant.
A DOE spokesman said: "Once the Department became aware that a notice had not been placed in the local press notifying the outcome of the planning application, action was taken to rectify this and the requirement for public notification via the press has now been fulfilled.
"The Department regrets that this happened. An investigation has been completed and action is being taken to avoid a recurrence."