Gary Donnelly has assault charge dropped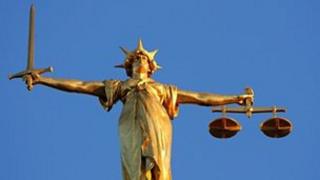 A 42-year-old man has had a charge of assaulting a police officer dismissed at Londonderry Magistrates' Court.
Gary Donnelly, of Iniscarn Road in Derry, faced one charge of assault on 4 June 2012.
The Public Prosecution Service said a DVD of the incident showed Mr Donnelly striking a police officer.
Deputy District Judge Austin Kennedy said there was no doubt there had been some contact but he added that it could have been accidental.
The PPS said the DVD showed Mr Donnelly being approached from behind and an officer putting one arm on his shoulder and one on his torso.
According to the PPS, Mr Donnelly then turned and struck the officer.
The court heard that the incident happened while the Olympic torch was making its way through the city.
The defence said there was a "lurking doubt" in the case, and added it was unclear that any contact made had been accidental or not.
The judge said the DVD had been "extremely helpful", and because there was no proof the contact was deliberate or reckless, he would dismiss the charge.