Limavady man has flag protest sentence suspended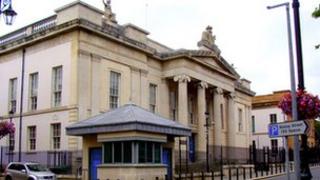 A man from Limavady, County Londonderry, who was sentenced to four months in jail for his part in a loyalist flag protest in December 2012, has had the sentence suspended.
The flag protest was held outside the Limavady council offices.
The suspension came after an appeal at Londonderry Crown Court on Wednesday.
William James Young, 53, from Thiepval Court. was convicted last April of disorderly behaviour and of resisting arrest and assaulting a police officer.
He was one of a group of 50 flag protesters protesting outside the council offices on 18 December.
Young was convicted following a contested case of striking an officer in the face with his arm.