'Spontaneous combustion' cause of Derry waste plant fire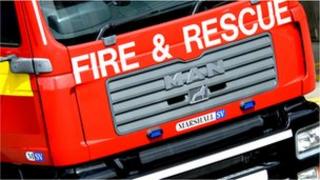 A firefighter, who helped deal with a blaze that broke out at a waste recycling plant in Londonderry on Friday morning, has described it as a case of "spontaneous combustion".
Around 25 firefighters worked to bring the fire at Brickkiln, on the Maydown Road, under control.
Around 200 tonnes of recycling material had to be removed in order to get to the fire which started around 7:00 GMT.
Station Commander Kevin Lynch said "things could have went very wrong".
"The fire was buried below 200 tonnes of material. We got it under control around 11:30am," he said.
"It was giving off smoke and we feared that the flames would rise once we dug into the material and indeed it did.
"With the amount of material, this had the risk of being a big problem.
"There is always a risk at plants like this. Spontaneous combustion can actually be quite common."