Stalled A5 project: Land sales still going ahead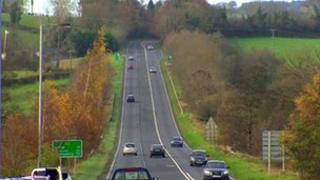 Four landowners affected by the stalled A5 road project are still selling their land to Roads Service.
In April, the High Court blocked permission for the dual carriageway project between Londonderry and Aughnacloy in County Tyrone.
The project has now been delayed indefinitely.
The landowners received compensation from Roads Service before the High Court's decision, and have decided to complete the sale.
In total, 176 landowners had land vested to make way for the £330m road upgrade.
After the High Court ruling, the Department of Regional Development wrote to landowners, stating that "the effect of this judgement is that, as of 15 April, the ownership of lands has been returned to you."
At this point only five landowners had received money from DRD, and they were given the choice of returning it or proceeding with the sale.
One of them opted to return the payment, and the other four are negotiating with Land and Property Services over the market value of their land.
Derek Clarke was among those who chose to proceed. He said he felt he had no choice but to sell his farm.
"The department vested our property, but they tell us they're still committed to building a road," he said.
"So the small payment they gave us, if I sent it back and said I was going to move back to my property, well it's blighted.
"I couldn't sell it to anyone else.
"Would you like to buy a property from me when you didn't know if the road was going to be built this year, next year, the following year?
"I don't think anybody else would want our property."
'Closure'
His wife Audrina said they want to complete the sale as soon as possible.
"We didn't want to lose our home, we didn't want to lose our farm.
"We spent 30 years building it up, but we accepted it, and we would like closure as soon as possible, not only financially but for the sake of our sanity."
The A5 project had stretched from Londonderry to Aughnacloy, County Tyrone, but it faced a legal challenge from the Alternative A5 Alliance (AA5A) - a group of farmers, landowners and supporters who sought to block work on a 53-mile stretch.
The AA5A won their judicial review into the planned new route when the court ruled that there had not been an appropriate assessment of the impact of the scheme on the river Foyle and river Finn special areas of conservation.
The executive has said it remains committed to the project, and Roads Service are developing four reports to inform the the appropriate assessments for all the special areas of conservation along the proposed route.
These will go out for consultation in spring 2014.
New traffic surveys and reviews have also been carried out, at a total cost of more than £748,000.