Two armed robberies at betting shops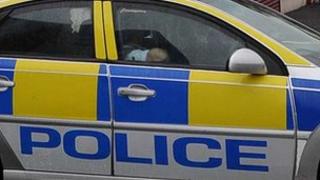 A 34-year-old man has been arrested in connection with armed robberies at two bookmakers' shops on Wednesday night.
The first happened at Strand Road, Londonderry, at about 18:00 GMT and the second happened half an hour later in the city's Foyle Street.
In both cases, staff were threatened with what is believed to be a gun. Cash was stolen.
In total, there have been seven robberies at bookmakers' shops in the city in the past two months.
Chief Inspector Jon Burrows told BBC Radio Foyle that catching those responsible was a priority for the police.
"We have got extra patrols in place and we are giving crime prevention advice to bookmakers.
Shocked
"We need even more help from the public to stop this because it is damaging the reputation of the city and it is very traumatic for those involved.
"We have now made five arrests, we have three people charged in custody and we have one person in our cells this morning being asked questions," he said.
"We want Derry to be a safe place to live and we are working hard to do that."
Sinn Féin Foyle MLA Maeve McLaughlin said: "The staff that I have spoken with have indicated that they are nervous about going to work.
"They are requesting and looking at processes where there are at least two staff members on the premises at any time. This is no way to earn a living."
Police have appealed for anyone with information to contact them.