Strabane travellers claim they are living in squalor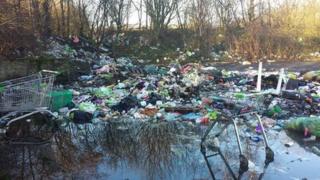 Travellers at a site in Strabane, County Tyrone, claim they have been living in squalor since last year and are being denied basic human rights.
Winnie Maughan has lived at Greenbrae since August and said she had gone without electricity or proper plumbing for months.
A spokesperson for the Housing Executive apologised for the delay in restoring services.
They said there were a number of issues, including an unpaid bill.
The spokesperson said there had also been major damage to the substation that supplies electricity to the site.
Ms Maughan said there were no facilities of any sort in her caravan.
"The main priority that I need is electricity. There is no electricity at all. If you've no electricity you've no washing machine.
"There's no bins, there's no proper toilets, there's no sinks, there's a tap on the wall.
Temporary accommodation
"I have a stove in the caravan and if I hadn't got the stove, I don't know how I'd manage. I'd probably have had to go into hospital."
The council offered travellers living on the site temporary accommodation in Londonderry over the winter.
"Why should I leave my home when my child is in school here, why should I have to go and live somewhere else. I should be allowed to live in my own home," Ms Maughan said.
The Housing Executive visited the site on Tuesday and said that each pitch had access to mains water.
"We did offer the families living on the site temporary accommodation in Derry, which was not accepted. This offer remains," the spokesperson added.
"Following the damage to the substation, the Housing Executive has been developing plans to upgrade the site, including the provision of individual electricity meters and keypads.
"Our plans are well advanced and we are currently awaiting quotations to enable the work to commence as soon as possible."