1989 Derry City team to be honoured at city event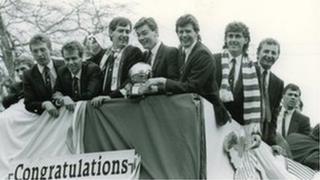 The Derry City team of 1989, who were the only side the League of Ireland's history to win the league title, FAI Cup and League Cup, are to be honoured in Derry on Friday evening.
The event at the City Hotel marks the 25th anniversary of the historic win.
Almost every member of the team will be at the event, which will also be attended by the FAI's Chief Executive John Delaney.
Republic of Ireland manager Martin O'Neill will also be present.
Liam Coyle, a member of the 1989 side, said it was hard to believe it had been 25 years.
"For everyone, I think it's still fresh for players and anybody who was about the club at the time," he said.
"To be honoured and to be recognised for being the only club and the only team that has achieved that, I think it's unbelievable to think back on all that."
'Special'
Liam said some of the best players in Ireland were on the winning team.
"I think when you look back now it was really special because nobody else has done it," he said.
"The funny thing is we could have done it the next season as well, because we lost a league cup final, we came second in the league and we were beat in the semi-final of the cup. I think the only team ever to come close to doing it again has been Derry City in 2006.
"Looking back on it now, I think it was just and achievement in itself to have won the league, but to have won three trophies was unbelievable."
Event organiser and former Derry City director Martin McDaid said he had been surprised how easy it was to get the team back together.
"When I started to ring around, everybody was either 'yes, I'm definitely going', or 'no, sorry, unfortunately, I have another event on that night'," he said.
"I think that sums up what we achieved 25 years ago, the camaraderie within the team was amazing.
"I think the camaraderie contributed to the success that was achieved."