Letter to Tobermore school 'contained a bullet'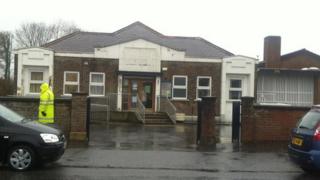 Police are investigating a letter sent to a primary school in County Londonderry that is reported to have contained a bullet.
The letter is said to have arrived at Tobermore Primary School on Tuesday.
Education Minister John O'Dowd said he "condemned utterly any attempt to intimidate or bully schoolchildren".
A police spokesperson said they were "aware of a letter sent to a primary school in Tobermore" and were treating it as a hate crime.
The police added: "While we do not discuss the security of individuals, police would never ignore anything that would put anyone at risk."
The education minister said: "I have been made aware of an incident at Tobermore Primary School.
"I condemn utterly any attempt to intimidate or bully schoolchildren.
"There is no justification whatsoever for such behaviour. I urge anyone in the local community who has information about the incident to contact the PSNI."
DUP councillor Anne Forde said: "It has been identified that the package contained a bullet.
"The school told me that it did not concern any of the pupils at the school.
"It's a very concerning time for parents. I totally and utterly condemn the incident."
'Absolutely deplorable'
Ulster Unionist MLA Sandra Overend said "sectarianism is certainly a possibility".
She added: "This is a school of all religions and all races and for the school to be going through this is absolutely deplorable.
"This must be something to do with a family that sent their children to this school and whatever the reason is, they shouldn't be discriminated against in any way.
"I would like to commend the school. I have spoken to the chief executive of the board and he assured me that the pupils and staff are made to feel comfortable."