Men charged over Londonderry weapons find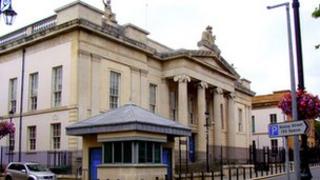 Two men have appeared in court in Londonderry charged over weapons and drugs found in the city in 2012.
Gary McPhillips, 30, of Hawking Street, Derry, is charged with having a submachine gun, a pistol, a stun gun, two hand grenades and 54 rounds of ammunition.
He is also charged with possessing Ecstasy and Methadone.
Ryan O Reilly, 27, of Meadowbank Court is charged with having a blank firing pistol without a firearms certificate.
Weapons and drugs were found in the attic of a house at Hawking Street on 20 December 2012.
Both men were remanded in custody until 31 March.