DUP: Paramilitary 'buy-in' needed for Londonderry CRJ scheme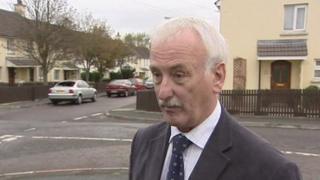 Plans for a community restorative justice scheme in Londonderry have been discussed with loyalist paramilitaries, a DUP councillor has told the BBC.
Drew Thompson also said he understood the paramilitary groups were "receptive to the idea" of launching the first CRJ in a loyalist area of the city.
He told Radio Foyle CRJ needed "buy-in" from everyone including paramilitaries.
The DUP and PSNI had been among guests invited to a public meeting to discuss the new scheme on Wednesday night.
'Little trust'
During the meeting, it was agreed to run a pilot CRJ project at Bonds Street, subject to funding.
The organisers said a new CRJ scheme is needed as loyalists in the area have little trust in the police.
Restorative justice schemes can involve offenders being brought in front of their victims in order to make them understand the impact of their crimes.
In some circumstances, it can be used as an alternative to criminal prosecution for minor offences, such as low-level anti-social behaviour.
However, some members of the public who attended the meeting expressed concern that paramiltaries could become involved in the administration of justice in the city.
'Checks and balances'
About 50 people were present at Wednesday's event, including Mr Thompson and PSNI Ch Insp Jon Burrows.
Mr Thompson said his party supported CRJ schemes in principle, as long as they were properly run and the correct checks and balances were in place.
The DUP councillor said the setting up of community restorative justice schemes was "a delicate balance" that required "buy-in from everybody".
"There's got to be buy-in from the paramilitaries, so that they don't go back to the activities that they were involved in before.
"But we also need the community organisations, that are bona fide community organisations, to buy into this practice and to work to make sure that we don't have young people criminalised, (who) end up not being able to get employment or not being able to get proper education."
One man who attended the meeting told BBC Radio Foyle that loyalist paramilitaries were controlling residential estates in the Waterside area of the city.
Mr Thompson rejected that claim, but said he believed some residents were seeking advice from people they assumed to be loyalist paramilitaries.
"I would be aware of some incidents where people are going to people who they perceive to be members of paramilitary organisations and who ask them specific questions of how to deal with this and how to deal with that.
"But if there is an issue, and it's a high level crime, it should be taken to the PSNI. The PSNI would verify that and they would deal with all those issues," the DUP councillor added.
'Positive'
Mr Thompson told BBC Radio Foyle he was "aware" that plans for a new CRJ scheme had been raised with loyalist paramilitary organisations.
"It has been discussed with them, and my understanding is that they are receptive to the idea because it has happened elsewhere, in Belfast and places like that, where paramilitaries have been involved and it appears to be working."
He added that the DUP was likely to support the Bond Street project.
"I think, in our party's point of view, we're happy enough at this particular stage to let the pilot scheme run out and see how it works and then review the position at that stage. But at this particular time we are confident and happy enough that the process of restorative justice is a positive one and that we should be pursuing that."
Nigel Gardiner, who works with the ex-prisoner's group, Epic, at Bonds Street, also attended the meeting.
He said he did not "speak for any loyalist paramilitary organisation" but said the involvement of former paramilitaries was sometimes necessary in CRJ schemes.
'Punishment attacks'
He said the schemes needed to work with people who "come to the attention of paramilitary groups, where the PSNI or others are failing to deliver".
"The alternative is, do we go back to what happened yesteryear, the punishment attacks? The brutal punishment attacks which were totally and morally wrong, or do we engage with people?
"It's important we engage with people, and if that means engaging with former paramilitaries, ex-combatants, so be it, in order to deliver," Mr Gardiner said.
There have been tensions between the police and some loyalist communities following the union flag protest which began in December 2012.
At one point during Wednesday's meeting, PSNI Ch Insp Jon Burrows was heckled by people in the audience.
'Local solutions'
In a statement on Thursday, police said officers attended a meeting "called to discuss the proposed introduction of a community-based restorative justice system".
"A number of issues were discussed as a means of resolving problems and issues within the local community by those living in the area," the statement added.
"We recognise the value of restorative practice in resolving local issues or tensions within communities. These are often recurring issues that can place a heavy demand on frontline police.
"Police in Foyle welcome the involvement and interest of all communities to finding local solutions to local issues. There is clear evidence that a restorative approach can be beneficial in bringing about a resolution to issues and improving quality of life in the community.