Brooke Park multi-million pound redevelopment to begin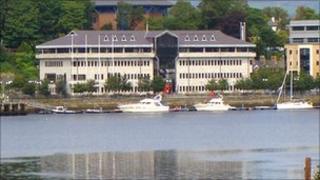 Work on a multi-million pound redevelopment of Brooke Park in Londonderry is due to begin later this year.
The Department for Social Development has approved £568,600 to complete the funding package of £5.6m for the regeneration of the area.
The project will transform 19 acres of public parkland in the heart of Derry.
Work is expected to finish by the end of 2016.
The plans include a new contact sports centre, the restoration of the historic gate lodge and the reinstatement of the ornamental oval pond.
A games area will also be provided and there will be improvements to the bowling club facilities, car parking, access, enhanced wildlife habitat and furniture.
'Friendly, historic and cultural'
Social Development Minister, Nelson McCaulsand, said: "Brooke Park is an historic green space with listed structures that date back as far as 1840.
"Over the years it has fallen somewhat into disrepair.
"I am delighted that my department has been able to contribute almost £570,000, which will complete the final piece of the funding jigsaw for this excellent project.
"Work can now get under way to enable the park to become a friendly, historic and cultural landscape that will benefit all the residents of Londonderry.
"I look forward to getting the opportunity to visit the regenerated park, which will improve the health and well-being of the local community as well as adding to the city's portfolio of tourist attractions."
The park will be managed through a ten-year management and maintenance plan.
Derry City Council has allocated extra resources to implement the plan including providing three additional members of staff.