Derry man jailed for sexually abusing 14-year-old boy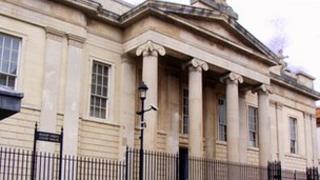 A former Derry City Council swimming instructor, who admitted sexually abusing a boy over a four year period, has been jailed for four and a half years at Londonderry Crown Court.
Brendan McGowan, 69, from Brewsters Close, pleaded guilty to a total of nine charges of abusing the boy in a flat in the Bogside.
McGowan will spend 18 months in jail and three years on probation.
He is also not allowed to work with children.
The abuse started in September 1989 when the boy was aged 12.
~The judge said McGowan, who shared a love of jazz with the boy, used flattery as well as an element of grooming and seduction to carry out the abuse.
He said McGowan, a former swimming instructor at the baths on William Street and Templemore Sports Complex, once said to his victim: "I thought you knew I was gay".
He said McGowan, a gay rights activist who had set up a helpline and support group for gay people, had difficulties in accepting responsibility for his behaviour.
The judge said he had abused his victim who is 33 years younger than him for "his own desires".
When McGowan is released from prison he will have to inform police of his whereabouts for the next ten years.