Valerie Watts 'has vision to lead', says Edwin Poots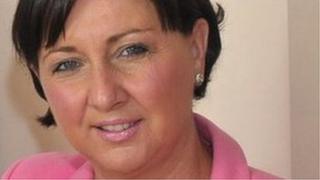 Northern Ireland's Health Minister Edwin Poots has said Valerie Watts "has the vision, drive and commitment to lead" as the new chief executive of the Health and Social Care Board.
Ms Watts is expected to take up her post at the start of July. She has over 25 years public sector experience.
Before taking up her current post as chief executive with Aberdeen City Council in 2011, she was town clerk and chief executive of Derry City Council.
Ms Watts will replace John Compton.
"This is an exceptionally challenging leadership role and we are lucky to have someone of her calibre come here to take up this position," said Mr Poots.
"The health service in Northern Ireland is facing a very challenging period, like many health services across the developed world, with ageing populations, increasing chronic conditions and financial constraints.
"I believe Ms Watts has the vision, drive and commitment to lead the delivery of health and social care forward while supporting the delivery of better patient care for everyone.
"I look forward to working closely with Ms Watts as we lead innovation, change and improvement in safety and quality to patients across all areas of health and social care in Northern Ireland."
'Journey of change'
Originally from Belfast, Ms Watts began her career in the Royal Victoria Hospital, Belfast, where she oversaw tendering for ancillary support services.
She worked on the regeneration plan for the city of Londonderry, and helped with the bid as Derry became the first UK City of Culture in 2013.
"I am delighted to take up the post," said Ms Watts.
"The health and social care system is on a journey of change and much has been achieved to date to ensure we have safe, quality and sustainable services now and into the future.
"I am looking forward to continuing this work, in conjunction with a wide range of partners, and building on the solid foundation laid down by Transforming Your Care.
"It is essential that everyone in Northern Ireland continues to have access to the care they need in a timely, safe and effective manner, and has confidence in the services provided."
Dr Ian Clements, the Health and Social Care Board chairman, said: "Valerie brings both leadership and a wealth of experience from having worked at a senior level in the public sector in Scotland and Northern Ireland for many years.
"I have every confidence she will build on the strong leadership of John Compton and play a key role in commissioning quality, sustainable, patient-centred health and social care services for everyone in Northern Ireland in line with Transforming Your Care."