Limavady woman disqualified from keeping animals for 10 years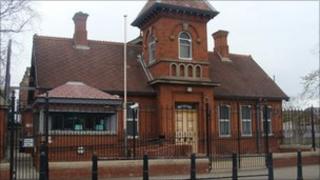 A woman has been disqualified from keeping any animal for 10 years after she pleaded guilty to causing unnecessary suffering to a family pet.
Siobhan Best, 34, of Greystone Park in Limavady admitted the offences that occurred on 23 November 2012.
A post mortem examination revealed that the dog had starved to death, Limavady Magistrates Court was told.
Best was also given a four month prison sentence, suspended for three years.
The court was told that animal welfare officers received a complaint about a dog having died and being left lying with no food or water.
'Appalling case'
Officers went to investigate and found the dog was lying dead in a kennel in the yard with the door shut.
Its ribs could be seen and it was very thin.
A nearby bin was knocked over and there were plastic bottles lying beside the body of the dog, the court heard.
A post mortem examination revealed that the dog had starved to death and it was said there tin foil in the dog's stomach suggesting he had been eating the contents of the wheelie bin.
District Judge Liam McNally asked how long would it have taken the dog to die and was told that the animal weighed 6kgs while the normal weight should have been between 20- 25kgs.
He asked how long the dog was dead and was told at least five days but possibly as long as 21 days.
A defence solicitor said her client had her own problems and that she regretted what had happened.
She said Best accepted she should have made more of an effort to look after the dog.
Judge McNally said: "I have to say this is an absolutely appalling case."
He said that Best "must have been aware of the suffering of a dog starved to death in front of you over a period of time".
He said it was a "very serious matter" and "as bad a case as I have come across".
Best was also ordered to pay £150 in costs.