Injured teenager rescued from Mount Errigal in Donegal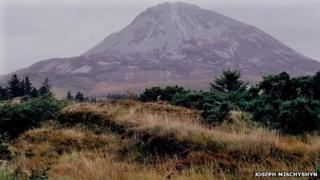 An injured teenager has been rescued after falling at the top of Mount Errigal in County Donegal.
The man was hiking with another friend when he lost his footing and tumbled down a steep slope on Monday evening.
He sustained cuts and bruising to his leg and has a suspected dislocated shoulder.
Donegal Mountain Rescue said they were tasked at 19:30 BST and a helicopter was deployed from Malin Head Coast Guard.
The helicopter initially failed to rescue the man because of high winds and inaccessibility.
Two members of Donegal Mountain Rescue were then airlifted to the man. They put him on a stretcher and carried him to a spot where the helicopter could take him to safety.
The man's friend was also led to safety by the rescue team.
Joe Brennan from Donegal Mountain Rescue said: "This was a dramatic scene yesterday involving two young men who were on a trip from Dublin to an Irish College in the area.
'Frightening'
"One of them fell down the slope on the southern side of Errigal. He fell into quite an inaccessible area and was quite badly injured.
"Malin Head sent their rescue helicopter and we were also there with the ambulance service and police.
"It was very difficult for the helicopter to get to the man so we had to get him to safety by using a stretcher. Five men were deployed to get him to safety.
"This would've been very frightening and traumatic for the young men.
"They were very lucky that they had mobile phone coverage. That helped them a lot.
"He was very lucky he didn't fall considerably further.
"This can all happen very easily and very fast. It just takes one moment."