Londonderry: 16% fall in anti-social behaviour reports, say police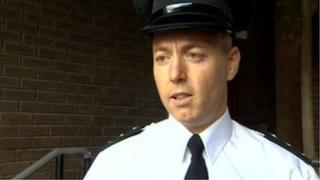 Police in Londonderry have said they received 900 fewer reports of anti-social behaviour in 2013, the biggest fall in Northern Ireland.
In 2012/13, 5,462 incidents were reported to police.
In the 12 months to March 2014, 4,571 had been reported, a fall of 16.3%.
"This demonstrates our commitment to neighbourhood policing, partnership and community priorities," said Police Service of Northern Ireland Ch Insp Jon Burrows.
"I am under no illusion that anti-social behaviour is regarded by many as a scourge. It takes many shapes.
"It can range from young people playing noisily with a ball close to the homes of elderly people, to alcohol-fuelled parties that lead to disturbances.
Prosecution
"We believe that people having consideration for others is crucial. That is why we encourage people from differing backgrounds to get together, and encourage community and social groups to provide alternative outlets.
"Our neighbourhood officers are in schools right across the city talking to children and young people about good citizenship, respect and their personal safety.
"In 2013/14, we seized 1,800 items of alcohol from young people and those drinking in designated alcohol-free areas.
"The alcohol we seize is destroyed and our responses can range from taking young people home to their parents up to recommending prosecution under the street-drinking bye-laws.
"We recognise that a conviction for disorderly behaviour can impair the future of young people, and we have other disposals, which includes Penalty Notices for Disorder (PNDs)."